Its the first day of October! I can't believe how quickly this year is flying by!
We had a very crazy week. I started my new teaching job, and AJ finally finished that big project at work, but not without working a few extra nights!
The night shifts were not fun. He'd usually get home around 8am!
But one night, he got out early, at 4:45am - just to have me start screaming when he walked into the bedroom because I thought he was an intruder!
In my defense, I wasn't wearing my glasses, and I have very poor vision.
In his defense, he thought I'd brought my pepper spray to bed (I was very scared when he was working nights) and was afraid to startle me and get sprayed, so he was trying to gently wake me up from afar.
Instead, I saw the blurry outline of a man standing at the end of my bed near the door and screamed!
That was an interesting Wednesday night.
But, you are not interested in Wednesday night, you are interested in Scavenger Hunt Sunday and the Photo Swap. So, without further ado...here they are!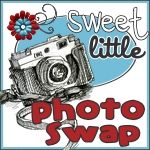 1. Inspired by a Book or Movie
I have two pictures for this. I got the idea for the first shot when I saw how crazy the lake was this week.
And here was my inspiration:
Then, AJ and I went to dinner, and the chandeliers reminded me of one of my favorite scenes from when Harry Met Sally.
And here is the scene:
2. Brown
Brown hair, brown eyes, brown sweater, brown bag. You can't see them here, but my shoes are a light brown too!
3. Hazy
The weather here has been so hazy and rainy all week. You could barely see the tops of the buildings in the city. And you could barely see the city at all when you toward it from the north. I'd love to have a picture of that to show you too, but I was driving, and I didn't want to crash! (Side note - Why is there a ton of traffic going to work, when I can't see the shot, but no traffic coming home, when I can?!)
4. Coffee or Tea
Or hot chocolate with whipped cream on top!
5. Linger
Confession: I took this picture just after I woke up in August, for my "week in the life" scrapbook project. But, this is the first time I'm showing it here. I just love my bed, I would linger there all day long if I could!
Have a great week!