I'm linking up with Shell for Pour Your Heart Out Wednesdays again this week...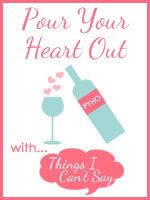 I didn't go to work yesterday.
I got up, I showered, I even got to the exit off of I-90/94.
But I didn't go to work.
Instead, I went home, showered (again), printed out a ton of resumes and applied to:
The Latin School
De Paul University
The Larko Group
Lakeshore Staffing
Kelly Staffing
Prime Staffing
Ajilon
I'll probably apply to Houghton-Mifflin again after I type this out.
I feel terrible about it, because I know how many teachers there are out there looking for jobs, but I hate teaching in the inner city.
I don't like carrying my pepper spray in my hand when I walk to my car, not because of the area, but because I'm afraid a student I had to discipline will attack me.
I don't like that a student can make comments about me in class and make me feel uncomfortable, yet I am told not to report it, because it appears "weak" and then they will think that I cannot handle my classroom. Apparently, this is normal behavior here, and it happens to all the teachers. It doesn't make it okay.
I don't like that when a student comes to my defense after a nasty comment is made (just out of my ear shot, but by the reaction, it had to be bad), that student is threatened with gang violence, and I am told to "ignore it."
I don't like that my principal told us not to write up any students for any reason unless we have dealt with it first because "classroom management is your job." I agree, it is my job - if you are late to class, don't have your homework, have your cell phone out, are talking to a friend, cut class or any of those things, I should handle it. If you make me so uncomfortable that I am afraid to walk to my car alone in broad daylight, administration should get involved. NOW. Not after I make two attempts to conference with the student on my own, and call home, and set up a mediation with the guidance counselor. RIGHT NOW.
I don't like that I am afraid of telling my administration I am having a problem in my classroom because I could be fired.
I don't like that I am afraid to say something because I am afraid the students will retaliate.
So I quit last night.
I know I left a lot of good students, and I know I left a lot of good coworkers, but it wasn't worth it.
I know everyone's telling me that its okay, that I shouldn't have taken the job to begin with, that I'll find something better, but I still feel horribly guilty.