Yay! Its Scavenger Hunt Sunday Day! This week has just flown by. On Tuesday, I thought it was Wednesday, so I was so worried the week would drag on and on because of that. But I had nothing to worry about, because all of a sudden, it was the weekend!
I'm linking up with Ashley, for Scavenger Hunt Sunday, and with Sara, for the Sweet Little Gals photo swap. I just love being able to link up and see what everyone else has done! It makes Sunday my favorite day of the week (now if we could just figure out how to skip that going back to work on Monday part!)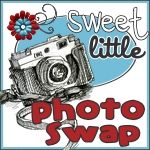 1. Landscape
I decided to walk through Lincoln Park this week, just to enjoy the fall colors, which are my favorite! It turned into a scavenger hunt for the colors, most of the trees hadn't turned yet! I took so many pictures, but I love how this one shows the park landscape, and the city-scape all together. And how the city is reflecting in the water.
2. Complementary/Triadic Color
Monday, just a day after I read the prompts, I was walking by a building that had tons of pansies outside. Most of them were navy and yellow, but the purple and yellow ones popped out as a perfect complementary set!
3. Black and White
More shots from my fall color search through Lincoln Park. I love this shot because it reminds me of the Robert Frost poem, but the woods were not yellow, so I made them black and white :)
4. Food
Mmmmmm zepploes and chocolate and honey dipping sauce from Quartino - a fabulous Italian place. They had the best zeppoles I've ever had outside of my family's. Soooo good...
5. Blank Space
I found some of that fall color that I was looking for! And I love how the blank spaces in the tree let the bright blue sky shine through.
Well, that's it for today's pictures...but there are many more where those fall ones came from. Including mums, mums and more mums...maybe I'll post those tomorrow :)